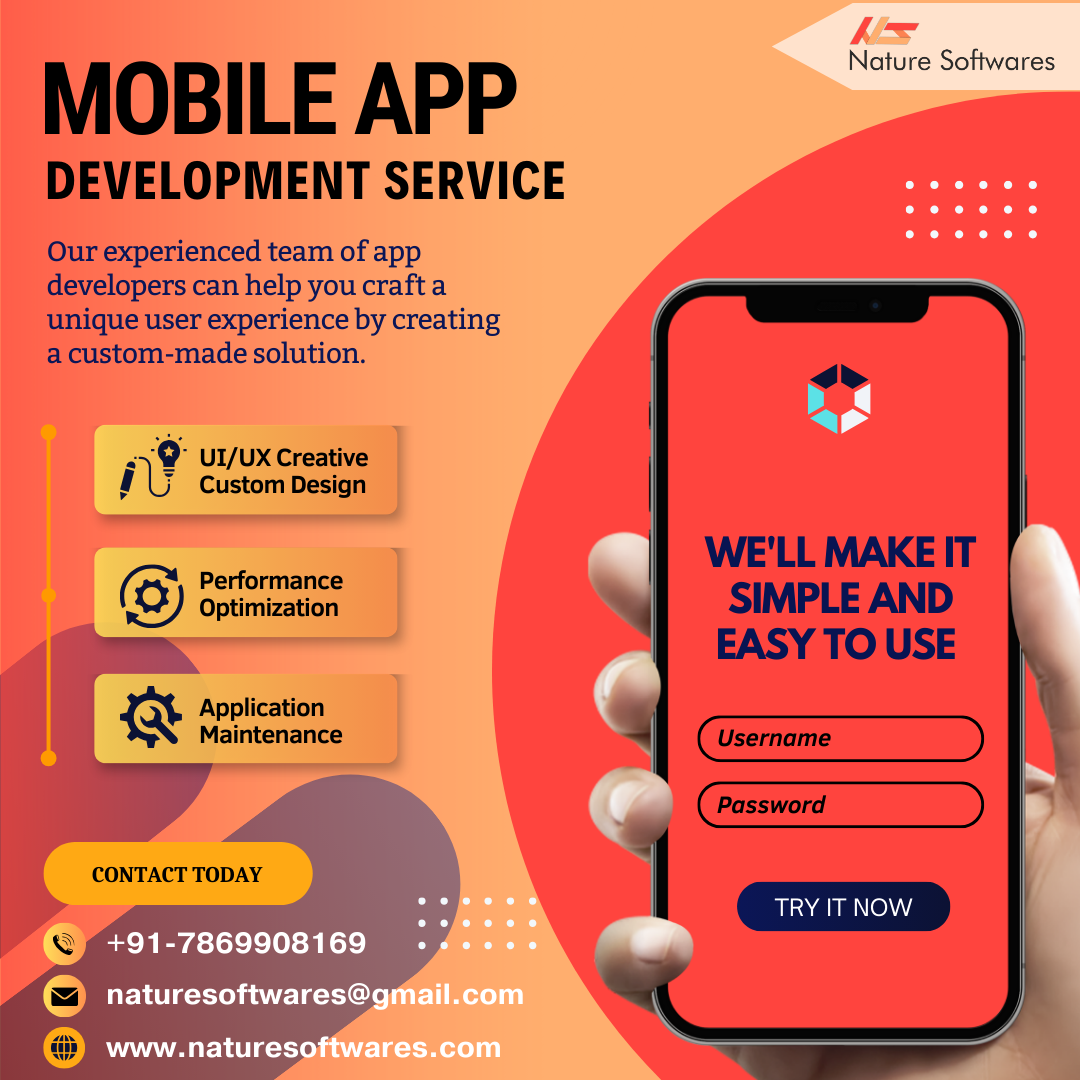 Mobile App Development
At Nature Softwares, we provide several distinct mobile app development subservices. You can select the one you require or combine a few to get even better outcomes. We are the top mobile app development organization, and our goal is to assist your company in developing an engaging mobile app for increased productivity improvement. . We are experts in creating smart phone applications using cutting-edge technology. Our software gives our customers the ability to control everything at their disposal at an assured low cost.
You can maintain your competitiveness by developing digital software with our mobile app development organization. Really shouldn't grant your athletes a head start.
We are the leading mobile app development organization, and we want to help your business create an appealing mobile app to boost productivity. Our software enables customers to manage everything at their discretion at a guaranteed low price. More than 100 devoted business experts are present to help you. 
We Provide Features
Development of Cross-Platform Applications
Quick time to market, low cost, quick development, a larger audience reach, and competitive advantages are a few additional benefits of cross-platform app development.
Personalized Mobile Application
We carry out comprehensive research to develop user-friendly applications depending on the demographics and technical skills of the end user.
Create Native IOS Apps
We create native IOS applications in our mobile app development company using languages like Kaitlin, Java, PHP, etc. We provide our customers with specially created apps that function flawlessly throughout the whole IOS platform, including iPods, iPhones, Apple Watches, Apple TV, etc.
Native Android App Development
Brand loyalty can be increased through mobile experiences. Our mobile app development firm creates mobile apps to connect people with the online experiences they enjoy, which ultimately boost revenue.

Mobile App Development Services:

Indigenous Software
Reach a large target segment easily by getting your native application. We create solutions for any hardware running the IOS or Android operating systems. 
Cross-platform Software
You may reduce the cost of development and ongoing maintenance by using cross platform app development to reach consumers of both Android and IOS with a single app.
Upgrading Web Applications
Get a web application that can function without a network connection and provide your users a native-like experience on any platform.
Web Hybrid Applications
To create native-like apps for both platforms quickly and affordably, create a single web application and many native shells.
Mobile API
To increase the performance of your digital business and make all the procedures even more convenient and efficient integrates your tools into your mobile app.
Technology Incorporated in Wearable's
To give your users an ecommerce platform, make your application available not just for Smartphone's but also for TVs, watches, and a variety of other devices.
Our Process:
How is the development process at Nature Softwares structured?          
We are able to produce apps rapidly and effectively because to our established workflow.
1. Product ideation
We consider all the variables when developing your proposal after carefully considering all the relevant factors. Included at this stage are:
Market and competitor research
Target audience research
Definition of the solution concept
Business model design
Evaluation Establishing 
Preparation teams
Suggestion for a technology stack
2. Design of the product
Our organization develops a faultless user interface and user experience for your app. In this stage are:
Specifications engineering
Model for data
UX analysis
Creating a brand identity
UX/UI design
3. Creation of backside APIs
We design interfaces to guarantee that your programme is accessible to all user groups. This phase entails:
API development and design
Ensuring API security
Making thorough API documentation
Increasing the system's capacity and enabling automated recovery
4. Creating mobile applications
Making the prototype a reality requires an iterative process. We currently:
Decide on the client-side architecture for the product 
Choose the libraries and implementation technologies that will be used. 
Setup and set up the development environment.
Create remedies and procedures in compliance with the requirements
Write unit tests for the code.
5. Testing an app
We make sure the app is of the highest quality and error-free before to release. This phase includes:
Usable evaluation
A load test
Effectiveness
A  compatibility check
Testing for translations
Security evaluation
6. Generate
We launch the app once the quality assurance method is successful. Currently, we:
Erect the necessary framework
Set up and manage connections
Check the efficiency and quality of your app.
Upload the application to the App Store or Play Market.
7. Renovation
We continue to monitor the app after its deployment in order to make improvements. During this phase, there are:
Implementing new features
Update management
Improving as necessary
Promote
Why you choose Nature Softwares's mobile application development services
Our services are intended to assist you in achieving your company objectives in addition to developing a mobile app for you.
On any platform, a fluid user experience
Regardless of the kind of app or the device, we make sure every application we create offers a faultless experience for its users.
Stable performance
To ensure they are stable, scalable, and of the highest quality, our team extensively tests each app under a variety of settings and loads.
Solutions that are affordable
Our goal is to produce apps that cost as little as possible and work best for your company. Hence, for each situation, we search for the most lucrative answer.
Modern technology
To guarantee the best efficiency and maintainability, we choose the most recent technologies for each type of application.
Looks native
No matter if they are native or cross-platform, all of our apps are made to feel native to the user and have a stylish, contemporary design.
Extreme security
We give the security of all of you and your users' data great consideration. Before deploying the software, we run penetration and security testing.