Voice Broadcasting
Handle a large number all at once. Start your campaign right away without establishing any technology. Offer a safe and high-quality broadcasting strategy on our dependable, secured network.
Easily manage countless voice promotions using our user-friendly web site. Utilize pre-made messaging layouts or use our text-to-speech feature to create unique marketing message.
Solutions for All Your Requirements in Voice Broadcasting
Send out important communications like notifications, promotions, and announcements with just one click. Increase the size and effectiveness of your campaign by using automated call retries, DNC checks, or on-demand scalability.
Our real-time dashboard and reports let you see the status of your active campaigns and analyze it. Link your clients up with a live agent. Plan to get campaign reports through email.
Get 24/7 customer help by phone, chat, or email. With cost-effective and customization options, ensure the highest return on investment.
Features: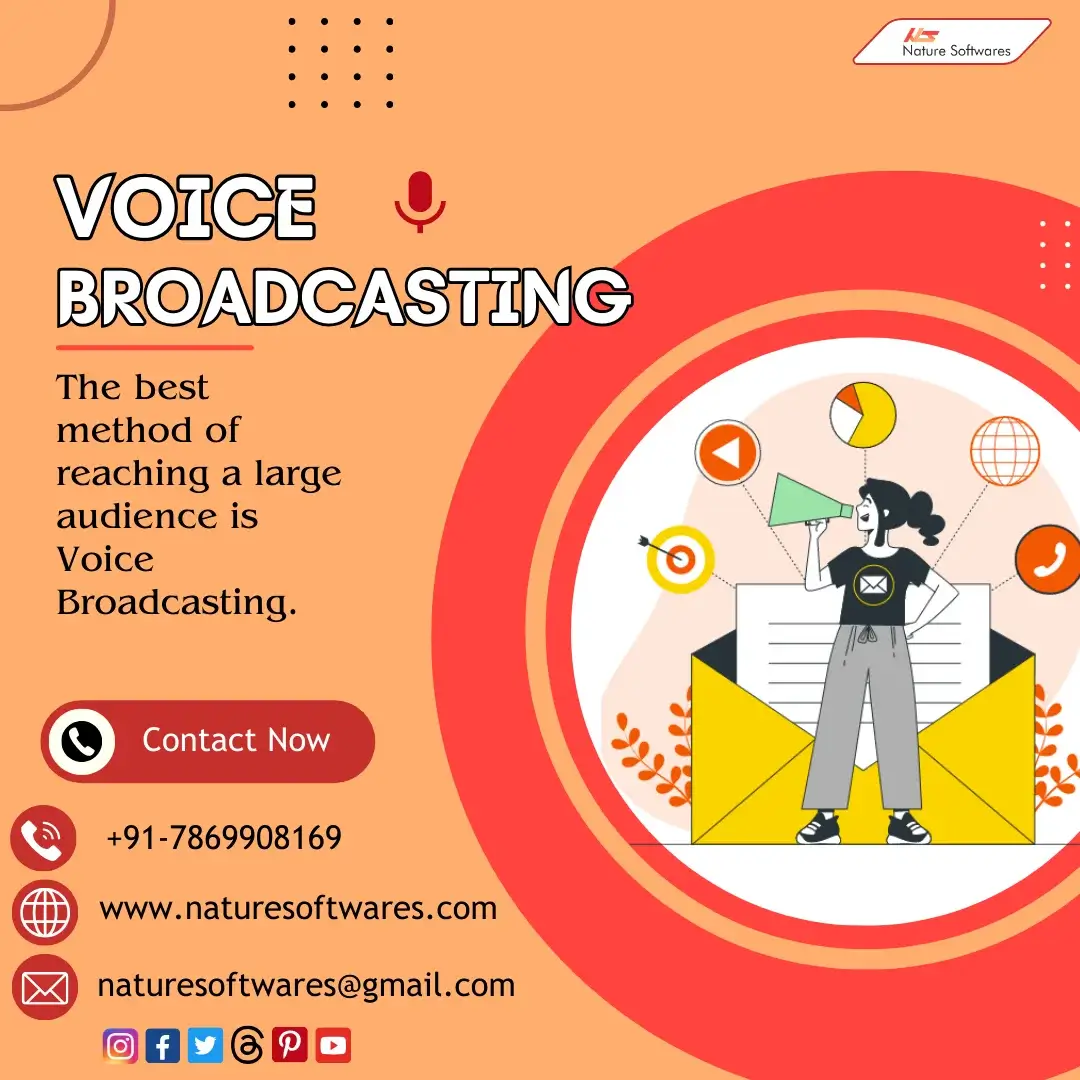 Every Step of the Developing Your Voice Campaign
Text to Speech
Our text-to-speech system will read aloud any text you type while on the phone, just like a human would. You can also upload your own audio file as a replacement.
Automated Call Retries
Plan redials to clients who missed your call in order to maximize the reach of your campaign.
Promotional Strategy
You can quickly adapt your campaigns to suit different days, times, and contact lists depending on your company's needs.
Analytics and Reports
Analyzing daily call reports will help you make wiser decisions and monitor performance. These reports are all detailed and current.
Execute countless initiatives
Utilize the user-friendly web portal provided by Nature Softwares to manage and oversee several voice broadcasting campaigns at once.
BENEFITS: Invest Less While Gaining More
Zero Infrastructure Is Necessary
Use Nature Softwares online portal to replace complicated network arrangements. Our portal and an internet connection are all you need to get started.
Premium Calls Just When Accepted
By just investing for the calls that your customers accept, you can lower the cost of your advertising and your business.
Effective customer care
Get immediate support from our product experts by contacting us at any time, from any location.
Scalability without Limits
With our salable infrastructure and various pricing options, you may increase the reach of your campaign at any time.
Let's look at how Voice Broadcasting is helpful for multiple sectors.
Education
People should be informed about open admission
Inform students of essential information
Conduct polls and gather feedback
Healthcare
Send messages to patients for appointment 
Inform them about upcoming health campus
Update doctors of arriving emergencies
Hospitality
Promote seasonal offerings to people
Send booking reminders to people one day prior to their stay
Conduct surveys to customer's experience
Political Campaigns
Update people and volunteers on important information
Conduct sample election polls or surveys
Broadcast campaign message to voters
E-commerce
Send calls to verify expensive orders.
Publicize future sales events Connect the broadcast to the business's IVR
Broadcasting upcoming sales offers
Banking
Inform people about loans and various promotional schemes
Send verification calls for suspicious activities
Provide protection with OTP numbers
Why Choose Nature Softwares
Best Price
Get a premium cloud accounting package with little works and expense.
Highest Quality
Best results, superior sound quality, and shorter time
Increased reliability
99.94% operator uptimes and best-in-class although somewhat
Unique Techniques
Using unique items to your advantage in the marketplace
Grow Effectively
Expand at will, without concern for technology
Best Support
24 hour customer service through Twitter, email, and phone